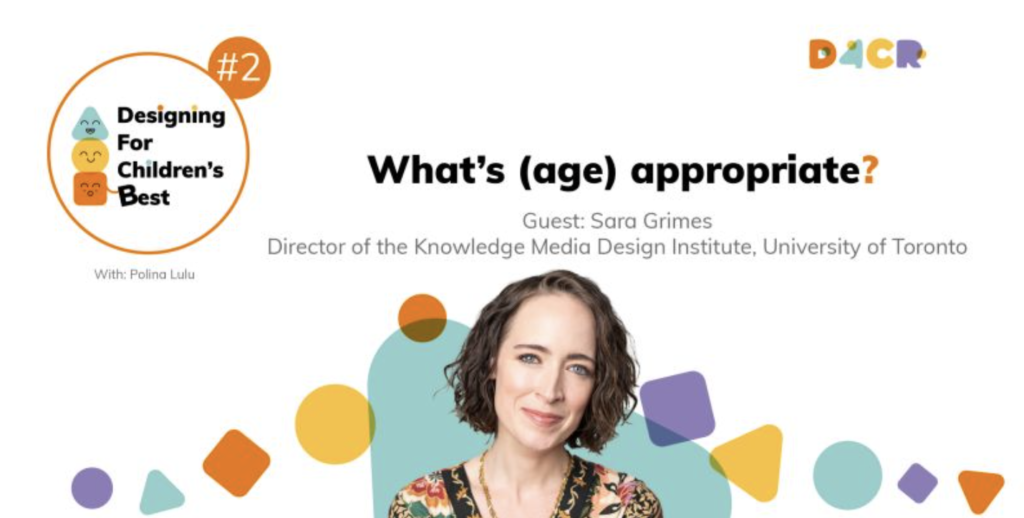 For our podcast episode #2, how about an inspiring, thought-provoking conversation with Sara Grimes about (age) appropriateness in children's tech, media, games, play, social construction of childhood and more? Is there any better way to start your weekend?
We touched:
💎The definitions and history of age-appropriate and how loaded the term appropriate is in itself
💎How extremely antagonistic towards children the current online ecosystem is, and how yet children find ways to come up with expressing themselves and connect with others, using spaces that weren't designed for them (and shhh, it's a secret that kids are seeking and absolutely consume media and games outside of their recommended age group)
💎What's the difference between an age-appropriate approach and a child-centric or children's rights based approach to design
💎What age-appropriate ratings do and don't cover
💎Past, present and in-progress policies and regulations
💎The complexity of appropriate design and the need to build flexible, updating criteria that will embody the changing nature of culture and circumstances
💎How kids and families can be included in figuring out the challenge together and how the effort is worth it
The episode is loaded with advice and calls to action.
LISTEN, FOLLOW AND SHARE:
Spotify – https://open.spotify.com/episode/1lfMeAXsPgsbLY1TEvX3LM
You can also find the podcast on other podcast platforms, search for 'Designing for Children's Rights'.