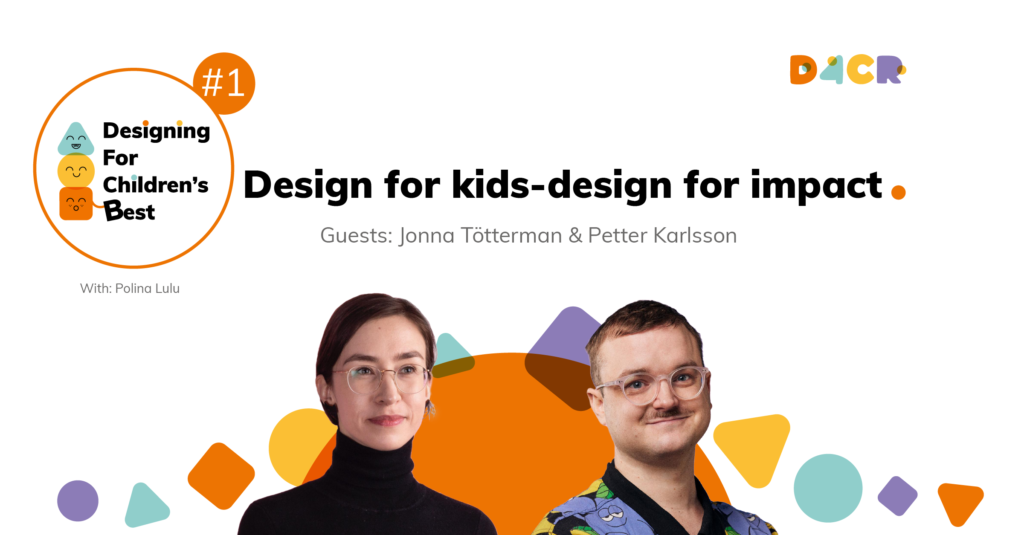 🎉 👏 📣 WE HAVE A PODCAST 📣👏🎉
Thrilled to introduce our new podcast, 'Designing for Children's Best,' which was born to bring in one place great discussions that are happening in #D4CR global community, as well as help each other design better for children.
In the very first episode, hosted by Polina Lulu, Jonna Tötterman and Petter Karlsson talk about D4CR association, our mission statement, introduce D4CR Design Guide, as well as take an in-depth look at why it is important to have children as stakeholders and what impact it creates.
🙏 Huge thanks to:
Jonna Tötterman and Petter Karlsson – for being such brave, wonderful and nice guests!
Leyla Nasib and Polina Lulu – for producing and hosting this podcast
Anna Puura – for creating the beloved D4CR logo
Alona Lazarenko – for creating beautiful podcast visuals
Daniel Fokin – for composing awesome podcast music
Every single one of D4CR friends for being part of the community!
👉 LISTEN, FOLLOW AND SHARE – https://open.spotify.com/episode/4szNmUY7OxuEUWg0dqu0K6
And look for "Designing for Children's Best" on other podcast platforms as well.